New Vision LLC - Mobile apps development company
About Us
The world of modern technology is ever advancing at an extremely rapid rate. We see businesses are also adapting to mobile platforms to run vital projects. To stay at the forefront, we have structured our company to continually research the latest techniques. The company "New Vision, LLC" was founded in the beginning of 2013, our short period of existence has not slowed us down, the core of our team is working together for the past eight years, as seen in our portfolio. We started as small team and growing with the years. Our customers have been and still are Ukrainian companies, such as "Viasat", satellite TV provider in Ukraine, "Overia, LLC", leader in the field of Intelligent solutions, as well as the U.S. "OneTime, LLC", the company engaged in cutting-edge areas and unique solutions in the field of mobile app development such as calendars and organizers, and European "Guerlain", famous perfume company and "CrossExpert, LLC", based in London. Our recent app development include work with navigation, social resources, work with photo/video, presentation application development, work with calendars and organizers.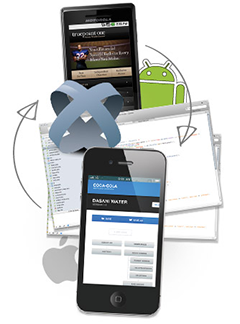 What are our advantages over other companies?
Of course, the main advantage of is that we combine a team of experts in their field. For us, what we do is not a job, it is more a lifestyle. We do not consider ourselves performers who are doing what they are told, while turning a blind eye to possible problems with the functionality or the usability of the final product. "New Vision" - a creative company and provides mobile app development of the best quality, it is why our products are the most useful, easy to use, fun for the end user.
Just to the benefits should include the fact that we, though not a big team, offer a full range of industry services. Spend less time and money on the with clear communication between the client and manager, with team leaders and developers. We respect your time constraints. We quickly move from words to work, "task – performance" - is the basic principle to which we try to adhere. Our team combine iOS and Android apps developers as well as designers and server side developers.
We are working with clients in direct contact. With the years of experience, we are able quickly and correctly solve problems with the best possible solution for any custom application development.
"New Vision, LLC" - is an official app development company, providing a warranty and technical support for our products.
And most importantly, We know how much time and effort should be made to bring the idea of the project, how much it is important to keep a finger on the pulse of the entire process, if you desire a perfect result. We can confidently say that by contacting us, we will give you our red carpet treatment.

Ievgen Disiak
Founder, President

Anatoliy Tribunsky
CTO, Backend Developer

Andrew Malyarchuk
iOS App Developer, PM

Vlad Chernetsky
Android App Developer, PM

Volodymyr Matukh
Junior iOS App Developer

Oleg Reksha
Android App Developer

Vadim Draichuk
Android App Developer

Sergey Shanduck
Android App Developer

Sergey Shapirenko
Creative Designer
New Vision provides many features to create the best mobile application for your business. The application can include events, alerts, social links, news, navigation and more. Keeping our partners and customers up to date with latest novelties inside Application World is our New Vision key for the growth of our partners and our company.
Flexibility
We make sure that our clients get leading innovative solutions that are both cost-efficient and dependable in order for them to achieve long term successes, handle their business issues and stay competitive. It is why we are trying to feel each client, identify goals and provide best case for successful result.
Development
Mobile app development include: Write down Technical Requirements, split Project on stages, coding using the latest versions of app development software, testing, releasing... You think it is boring?! Each part of App Development is like write a book for us, it is a very different story, part of our life. And be proud of result of your life - it is the main satisfaction. Do what you love to do - it is the main goal of our team. And it is why we have real specialists in each part of development process.
Check Stats
By analyzing feedback and statistics, New Vision provide updates that can better meet our consumer's needs.
Investment
Have a good idea but have not enough resources to make it live? Not a problem! We are ready to invest our time to mobile app development for interesting projects.
Help & Support
Our experts provide complete technical support/backup for applications. This is where our cost-effective maintenance and support service comes-in. It allows you to provide your customers the same level of service without incurring high costs.
FlexusTrade is the mobile eCommerce solution to boost online sales using the mobile application. We will help you to be always in touch with your customers, allowing you to sell more.
Devices: iOS (iPhone, iPad) and Android (phone, tablet)
Backend: PHP, MySQL
flexustrade.com →
The all new social network feature called Community connects hCG dieters privately via their mobile phone enabling 24/7 peer interaction.
Devices: iOS (iPhone)
Backend: PHP, MySQL, MongoDB, NodeJS (WebSockets)
iTunes →
Honeyhive helps you get important things done faster and with less frustration. Combining task management functionality with a rich set of collaboration tools. Honeyhive acts somewhat like an archive for content and activities. Over time, as you collaborate within Honeyhive, files, links and other content types are stored centrally and can be accessed either with full text search or with easy to use filters.
Devices: iOS (iPhone)
Backend: Java, MySQL
honeyhive.com →
Meal Planning couldn't be easier and as much fun as it is in hCG Life. In Phase 2, Food items appear by Protein, Veggie and Fruits and Snacks. You can Tap, Drag and Drop directly in the Home Screen to the desired meal. For Phase 3 through Life, use the Food Categories to find the items you want to add to your Breakfast, Lunch, Dinner, Snacks & Drinks and Slide your finger from Left to Right and it's added!
Devices: iOS (iPhone, iPad) and Android (phone, tablet)
Backend: PHP, MySQL, MongoDB, NodeJS (WebSockets)
hcgapp.com →
The most comprehensive digital planner for sharing and collaborating with Friends, Family and Co-Workers.
Devices: iOS (iPhone, iPad)
Backend: PHP, MySQL
iplanishare.com →
The Application iPeak is an information guide for ski resort, which provides the function of collecting Statistics, Challenges, GPS navigation and Community.
Devices: iOS (iPhone) and Android (phones)
Backend: PHP, MySQL
ipeak.biz →
Press:
55 Chigorina str., office 9,
Kiev, Ukraine, 01042
Production:
13a 8th Bereznia str., office 405,
Zhytomyr, Ukraine, 10003
+380 67 526 16 13
For general questions, bug reports or press inquires please fill out the form below.